To feel long repressed feelings
March 2010

A quote from Hugo Rupp
October 2009

Introductione in Italiano
March 2008

New book
June 2006

Editorial
July 2005

The Body Never Lies
May 2005

Editorial
January 2004

Introduction to the website
January 2001

Thursday June 15, 2006
New book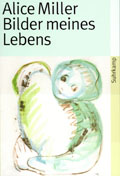 A new book by Alice Miller has been published in German by Suhrkamp Verlag under the title BILDER MEINES LEBENS. It is available at amazon.de

With 66 images and an introduction of the author it can be regarded as a form of a selective, fragmentary autobiography of Alice Miller. It does not contain reports about external facts, but messages about the inner development of the author, of her path to her truth. This happens in the language of pictures, which were not planned, not designed, but emerged spontaneously, dictated, in a sense, by the unconscious of the painter.

Unfortunately, the colors of some pictures appear paler on the paper of the book than in original. If you would like to see the authentic colors, please click on the following link: BILDER MEINES LEBENS.

Top